Here you can share links, pictures and videos about train derailments.
On 4 Apr 2020 there was another derailment on Tehachapi Pass, this time at Bealville. Looks like derailments are happening couple of times per year now on Tehachapi Pass, that's a lot. Many of them are happening because of "string lining", as this pass has many sharp curves.
Here is drone footage of this derailment: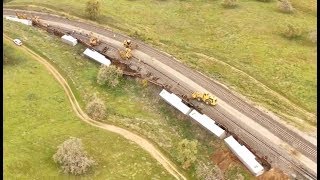 @Romet.Lyytsepp
Wow! Looks like too many empty spine car platforms ahead of loads on a steep, curvy hill. This is where pre-blocking for different cities along the route, regardless of empty/load position in train comes back to bite. No reason for this kind of operational behavior, except to pinch pennies on crew work and train starts. Car position is NOT all equal when mountains and sharp curves are in the mix. Loads first, empties last!
@Maersk.146
Well then I guess cleaning up derailments and paying fines to customers for shipment delays is much cheaper than paying for extra crew work hours...

@Romet.Lyytsepp
- I think that may almost be the mentality.
@Romet.Lyytsepp
- Wow! This one looks like a too-rapid startup coming out of the siding after a meet. Even tipped over a loco, too. That won't help the driver's performance appraisal...
Union Pacific train derailed and caught fire on a bridge over Tempe Town Lake in Arizona
https://www.facebook.com/arizonasfamily/videos/287483382464724/
Derailment of one of these old CP trains that happened back in march
https://trainspo.com/model/656/